Kasen and I recently had the pleasure of meeting two new fur-kids @ Camp Run-A-Mutt: Oakley and Gordy. Each of these dogs has a separate set of pet parents that happened to be boarding @ CRAM over the July 4th holiday. They both asked us to groom their dogs while they were away, so we groomed them back-to-back on the same day. Both dogs were sweet as can be and are about the same size and weight. In fact, even their bone structure was similar. So, what are the differences? Let's look @ Oakley first.

Oakley has a nice crisp, wiry coat that is easy to maintain. His family keeps his hair a little shorter and takes good care of his coat. He had no tangles and was a breeze to shampoo, blow-dry, comb and prep for grooming. See his photos below...

Now, let's have a look @ Gordy (see photo, below). This dog has thick, wavy hair that is difficult to maintain. This kind of coat, if left longer than 1" in length, mats easily and needs to be thoroughly combed and brushed everyday. Bathing without doing so will cause mats to be locked in close to the skin. Gordy's folks keep his hair longer for a more "fluffy" look. Gordy took considerably more time to shampoo, blow-dry, comb and prep for grooming. There were areas that were too matted to be combed out, so I shaved those areas. Fortunately, they were in locations that could be hidden with longer hair. Since his folks like a longer look anyway, it worked well as camouflage. (His right front leg already had hair missing from a veterinary procedure.)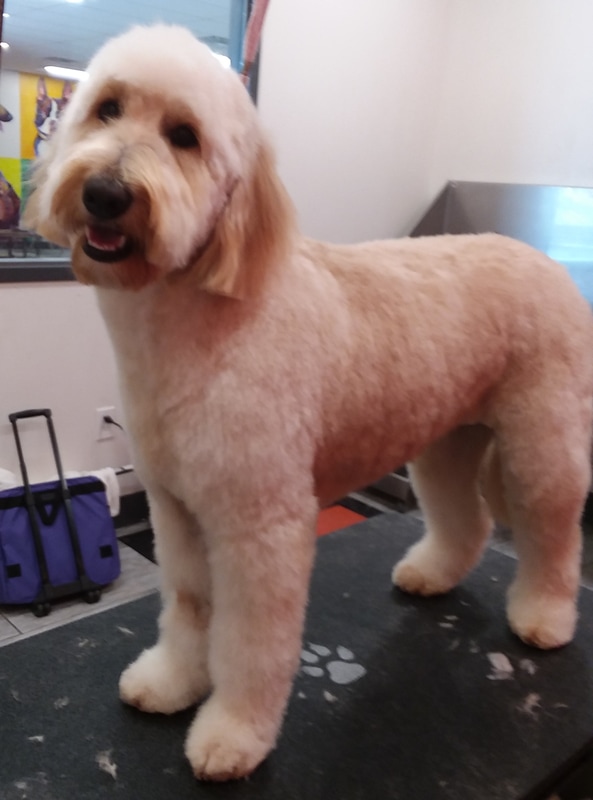 Believe it or not, both sets of pet parents requested the exact same hairstyle, and that is what they got. So, why do they look different? The length is slightly different, but the hair type is completely different. Crisp and wiry vs. soft and wavy.

The next time you take a photo to show your groomer a hairstyle you would like on your pet, keep this in mind. Two dogs can look completely different in the same style!