Dear Friends,

Last Tuesday the 18th, sometime between 1:35 and 1:53p., my beloved Yorkie left this world. His name was Baby Jake, but most of us called him B.J. I've known him so long, that I almost don't know where to start or where to end writing about him. He's been a part of my family for many, many years.

It was a fortuitous day indeed when he escaped the yard where he had been chained in the West Texas heat and my uncle (the kindest man on the planet) found him running down the road, matted, dirty and full of ticks...for the third time. Joel had his groomer friend clean the little guy up, took him to my Mom's house and told her, "Now you have a dog." She had always wanted a Yorkie, so she took that scruffy, unruly street dog and loved him into a gentleman. She named him Baby Jake after a character in a play about gangsters in Chicago during prohibition. The name was appropriate since that tiny dog stole our hearts.

Mom had a small fenced yard built just for him and they shared many happy years (and bubble baths and ice cream) together. Every morning Mom would sit @ her kitchen table and gaze out the window. She had a special meditation that she did by saying a prayer for each member of her family starting with the first tree she saw and ending w/ the very last tree. She held B.J. in her lap as she prayed.

Below is a self-portrait my Mom painted with B.J. in 2001.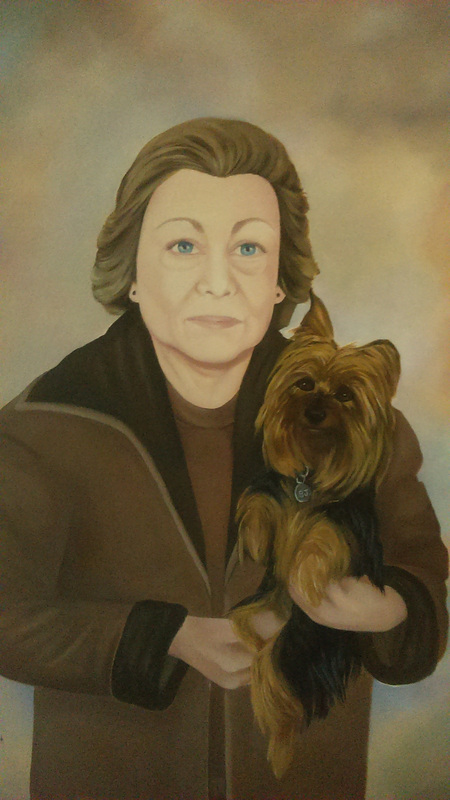 When my Mom passed away in 2006, I inherited her beloved companion. My girls (2 cats and 2 dogs) didn't know what to think about such a scallywag under the same roof, but in the end, it all worked out. It was sort of crowded in our Chicago high rise apartment, so we all moved to Texas together to have a house w/ a yard and more space for everyone.

I could write for days or maybe even months about the joy we all had together. B.J. made so many friends from a little white cat that used to come into Mom's yard to play with him to my clients' pets and even strangers on the street. He was always polite and never started a fight...except @ the veterinary offices. Anyone w/ a needle was the enemy as far as he was concerned! Otherwise, he was curious, adventuresome and sweet. His greatest joy, however, were our evening walks, just the two of us. When he saw his harness he would leap into the air and kick his little hind feet like Barishnikoff! Twinkle toes over and over to get more lift as he jumped. Once the harness was on and we were out the door I had to power walk to keep up with him! When he got older he still had the same enthusiasm, but his walks did slow down a bit.

Here are some recent photos from just the last 5 years.

The night of Monday, August 17th, I took him to have a veterinary assessment. He had neurological problems and the vet said that if he was her dog she would put him to sleep. I took him home that evening and offered him a vanilla milkshake. He had not been able to eat or drink for 24 hours because he was not coordinated enough to do it. But he was finally able to lap up some whipped cream and milkshake. After many failed attempts to get pain meds into him, in the wee hours of the morning, he finally took some water, so I put some Happy Traveler into canned cat food which he was able to eat and he finally got some rest.

The last 10 hours of his life, Baby Jake slept in my bed dreaming. He was in a very deep sleep, but sometimes I could see his little feet move and I'd like to think that he was remembering our walks together. Dr. Ong came to our house Tuesday afternoon and that is where we said good-bye.


Baby Jake touched the lives of so many people, I can only feel grateful for the very moment my uncle decided to intervene and rescue this little guy from a life of neglect. He lived like a prince and was spoiled by 2 mommies. He traveled all over the country. He had a life few dogs get to have. I very much miss my little buddy, but I have to feel joyful, too.

We have so much to learn from our companion animals. As I was working out what I wanted to say, I wrote some simple meditations inspired by the way B.J. lived his life. Maybe you'll find them meaningful, too.

Meditations on Baby Jake

*Walk your own path.
Goodness will find you.

*Sit in the lap of Love.

*Good friends will find you.
They come in all shapes and sizes.

*Know what brings you joy and put your whole heart into it.


So-long my little friend, West Texas cowboy, gentleman, Little Prince...my little Buddy. May you have many more adventures in the life after this one. I'll miss you, but you will never be forgotten. Thank you for sharing your life with all of us. <3


Afterword

The departure of our friend B.J. marks the end of my relationship with the three little canines I moved back to Houston with in 2008. I adopted Frieda Pixel in the summer of 2004. Two years later, I adopted Baila in the spring of 2006 and 6 months later I inherited B.J. What is remarkable is that they left me in exactly the same order: Frieda Pixel in the fall of 2013, Baila the beginning of 2015 and B.J. 6 months later. It was astonishing when I realized this. They were with me for 9 years each. I believe they came to teach me and I have the deepest gratitude for the time we shared.

And what about my cats, Miriam and Claudia? Well, they arrived in my life together, but they are still here. So, clearly I have more lessons to learn. And I couldn't ask for two better teachers.

"We don't change animals. They change us."
~ Huy Ho (Houston acupuncturist)