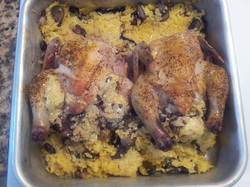 Every Thanksgiving I go a little crazy preparing dinner. Several years ago I noticed a trend where more people I knew preferred eating out to a home cooked meal. So, I decided to cook for those who would most appreciate my efforts...my pets! This year is no exception. Here's the main course: cornish game hens w/ saffron rice dressing.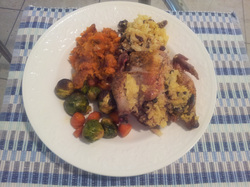 Delicious poultry served with sweet potato casserole and roasted veggies. This is my plate. ..and then there's the kids' servings...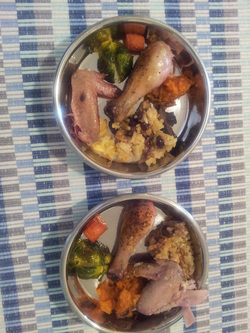 White meat or dark? How about both!

Don't worry, folks. I took the bones out before I served it. This photo is just for presentation. ;-)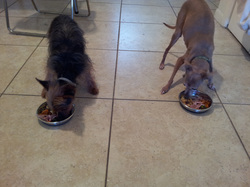 Ready, set...feast!

Think they enjoyed it? They LOVED it!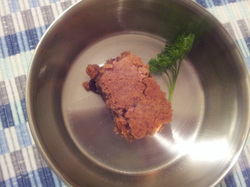 No holiday meal is complete without dessert. So, I prepared a Honey and Spice cake from scratch. Canine and humans-with-food-sensitivities friendly. Gluten free. No refined sugar. All natural. Seriously, I should open an interspecies restaurant. (Note the garnish.)
After our meal, B.J. and I went for a power walk around the neighborhood while Baila slept dinner off on the sofa. I passed up two invitations to eat out today. This is my idea of fun! I hope you all had as much fun as we did. :-)