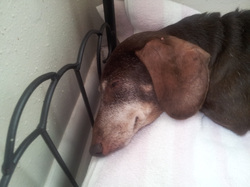 Dear Pet Parents, Friends and Loved Ones,

Today has been a long day. Our little friend Ms. Frieda Pixel left us peacefully @ approximately 8:25a. this morning. A memorial will be announced @ a future date. Please, hold her memory with great joy as she was a wonderful blessing.

Someone dear said to me last night, "She has family waiting for her in Heaven. And she will be waiting for you when you get there." So she has and so she shall. Goodbyes are never easy.

I want to say "Thank you" to everyone who sent kind and loving words to me and about Frieda. It may be a day or more before I am up to returning e-mails and phone calls. Living without her loving presence will be a big adjustment.

Peace and Much Love,
S.

P.S. This photo was taken last night as she rested quietly in her bed next to her best friend, Baila.