>
Ark Naturals 30ct. Happy Traveler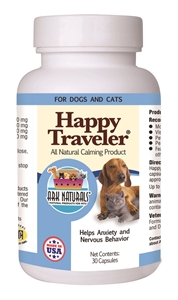 Ark Naturals 30ct. Happy Traveler
SKU:
$10.99
$10.99
Unavailable
Formulated with the highest quality botanicals, Happy Traveler was designed by a holistic veterinarian and PhD herbal scientist to ease anxiety and motion sickness. Useful for separation anxiety, travel anxiety, to socialize a nervous or excitable pet into a new environment, during thunderstorms, fireworks, airline travel, visits to groomers, vets, and kennels. Non-habit forming. Made in the USA.
Active Ingredients
Valerian, German Chamomile, L-Tryptophan, St. Johns Wort
​
Inactive Ingredients
Gelatin (capsule), magnesium stearate, microcrystalline, cellulose, whey.