I had the idea a few days ago that my A Peaceful Pet clients might be interested in seeing some of the work that I do in my studio. I have brought a few of my pet related pieces to the salon, but actually I create all kinds of 2D fine art. I'll post a few examples of the work I do and show some of the process.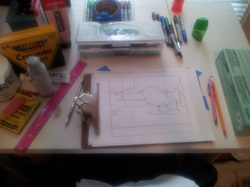 This particular piece is from a photograph of the view from my living room window. Everyday I like to spend a some time watching the way the weather and lighting change outdoors. I call watching the world through my window The Show because it is never the same from one moment to the next. First I started w/ a simple line drawing.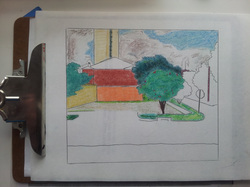 Then I made decisions about the style and medium I wanted to work in. I wanted this piece to be more of an impression of the view and not directly representational. I chose to mix pencil with oil and chalk pastels. I haven't worked in any pastels in years, so I thought it would be fun and a bit of a challenge.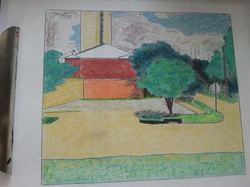 This is the finished product. I am calling it The Show 1. In a week or two I am going to do this exact same view in acrylic paint and sharpie markers since I have many more years experience working with them. I want to compare the two mediums. Let me know what you think!