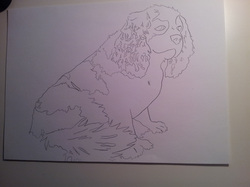 This is an example of how I take a simple line drawing and develop it into a mixed media illustration on paper. In this particular case, a client sent me some photos of her Mom's dog via e-mail and commissioned me to do his portrait in this style.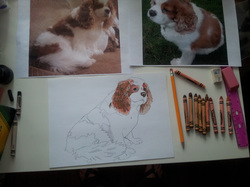 In this photo you can see the images I have to work with as well as my interpretation of the subject's face given 2 different poses and angles. Media: Paper, #2 pencil, graphite, Crayola crayons, Sharpie marker, acrylic paint.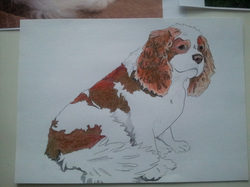 I want the expression to be the primary focus of the illustration, creating plenty of eye-catching detail on the head, but not so much on the body. Planting the image solidly on an imaginary surface w/ shadowing below.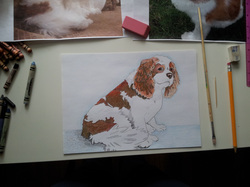 Notice how the subtle use of a complementary color raised the image forward and some simple white highlights on the face cause the expression to appear almost animated. The client requested this piece be delivered w/out frame.

To protect the image and to provide a more visually pleasing display, I will leave the work framed until the client arrives to pick it up. Optimally, this kind of work should always be framed with nothing in direct contact w/ the image. I recommend using an acid-free mat.