Like most artists, the walls in my studio are covered with artwork and there is art stacked on the floor as well as photos in boxes. A couple of walls have framed work and work done on canvas. One wall is covered in bookshelves w/ (surprise!) books, framed photos, other media and artwork. One entire wall is just unframed work held in place w/ push pins. Not all the work on my walls is mine. I've managed to collect work from other artists and I am fond of saving magazine articles, photos and other things that inspire me. Please, pardon the poor quality of these shots. Just spontaneous cell phone clicks.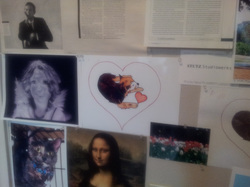 The center of this photograph is an early prelim of the A Peaceful Pet logo. I did several prelims before this one. I drew the first one by hand, scanned it and digitally altered it several times before it was finished. Keeping work clearly visible @ all times informs future projects.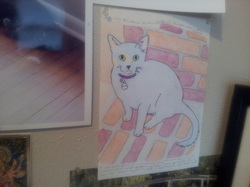 My favorite work is digital mixed media, but I've done a lot of simple line drawings and illustrations as well. This is an illustration for a short story I've been working on. I used pencil, sharpie markers and crayola crayons. Can you guess who modeled for this?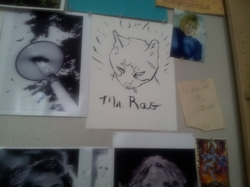 The drawing in the center is from a photo sent to me by someone very dear. I sometimes hear her cat meowing on the phone. This is how his energy feels to me. He is a sweet older kitty. I have recently started playing with brush and ink to deliver a more dynamic and spontaneous portrait.